Telehandler load charts are a crucial yet sometimes overlooked part of safe operation. Transporting , placing, and retrieving loads is a daily activity for many applications. When hauling materials, many factors can change how a load should be handled. These include weather conditions, the size and weight of the materials, and the height it needs to be lifted to. Certain materials may also require a special attachment for effective handling.
Operators must assess these conditions and understand the capabilities of their telehandler before transporting materials. That's why every unit features a telehandler load chart in the cab. This chart acts as a quick reference guide for operators when they are transporting materials. A telehandler load chart often looks like these JLG and Genie charts: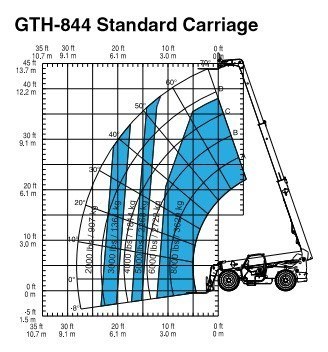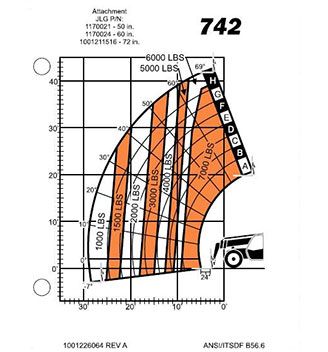 Reading load charts can be difficult at first, but operators must understand them to stay safe. Each telehandler load chart contains a grid that shows the maximum reach and lift range of the unit. This range reflects the retracted and extended boom positions. Reach is shown on the bottom, lift on the left side, and capacity in the middle of the chart.
As a general rule of thumb, telehandlers lose lift capacity as the boom moves further away from the unit. Let's use the GTH-844 chart as an example. When hauling materials within 5-10ft of the unit, it has a lift capacity of 8,000 lbs. If the boom extends to 25ft, this reduces the capacity to 2,000 lbs.
Most lift charts are based on a unit with forks that have a 24" load center. Longer forks and different attachments can drastically change these calculations. Reference your user manual for more information or contact the manufacturer to see if other load charts are available.
To effectively read the load chart, the operator needs to determine several factors first. These include:
The weight and size of the materials.
Required lift height to reach the designated area.
The capacity and lift capabilities of your telehandler.
Once these factors have been determined, the operator must maneuver the unit to the correct placement/retrieval position. These are denoted on the telehandler load chart by letters ranging from A-H, and sometimes beyond. By acting within this letter range, the operator is ensuring a safe lift or placement for the materials. This reduces the chance of damaging materials, putting excess strain on the unit, or dropping the load.
Keys for Safe Operation
Understand the full capabilities of your telehandler. This includes lift height, capacity with/without outriggers, steering modes, and visibility.
Be familiar with the job site and potential hazards.
Make adjustments to operating speed based on weather conditions.
Use the telehandler load chart for every lift and retrieval.
Utilize additional personnel for placing and retrieving loads on higher levels.
Reading load charts and understanding them is crucial for safe operation. By referencing them for every lift and placement, operators will use their telehandlers safely and productively. For more information on telehandler load charts, or to obtain a new one for your unit, contact Leavitt Machinery today!