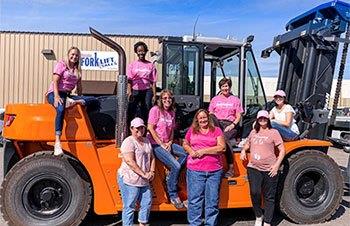 Phoenix, Arizona (January 2021): Reliable Forklift Sales LLC. and Leavitt Machinery have entered into an agreement whereby Leavitt Machinery, based in Surrey, British Columbia, has acquired Reliable. The transaction was completed on January 1, 2021.
Reliable, started in 2005 by Don and Mary Carlson, continues to experience tremendous growth year after year. The acquisition by Leavitt Machinery, one of North America's largest material handling equipment dealers, will strengthen Reliable's resources to enable strategic growth and expansion within Arizona.
Reliable Forklift Founder and President Don Carlson said, "Our people continue to be the foundation of the fabulous business we have built from our full service branch location in Phoenix, AZ. Joining forces with one of North America's largest forklift dealers, Leavitt Machinery will bring added strength and resources to allow for our strategic growth plans for Arizona."
Leavitt Machinery President, Tom Leavitt said, "Our executive team is excited to have Reliable join Leavitt Machinery and build on a solid presence in the Arizona marketplace. Reliable is well-known in the industry for having a great reputation with customers and vendors alike and a hard-working dedicated team of people. We are going to plug some resources into key areas of their business that will enable them to continue to strengthen their position in the market. Our companies share similar values, work ethic and understand the importance of customer service."
About Reliable Forklift Sales LLC.
Based in Phoenix, AZ Reliable Forklift Sales LLC. provides materials handling equipment sales, rentals, parts, service, maintenance programs and operator training to a diverse customer base including automotive, logistics, manufacturing, food and beverage, construction and retail applications. Reliable employs more than 40 staff including service technicians, operator trainers, sales and service as well as parts personnel out of its Phoenix location. Reliable is an authorized dealer in Arizona for Doosan and Linde forklifts, Donkey truck mounted forklifts, Sellick Rough Terrain Forklifts, Combilift 4-Way Directional Forklifts, and Skyjack and Genie aerial work platforms and telehandlers.
About Leavitt Machinery
Leavitt Machinery is one of the fastest growing materials handling equipment dealers in North America. With over 38 locations North America wide, including dedicated service branches and training centers, Leavitt Machinery offers new and used equipment sales, short-term and long-term rentals, emergency and preventative maintenance, safety training and parts support. Leavitt Machinery provides a wide variety of equipment options and services for every application. The team of dedicated representatives at Leavitt Machinery are constantly striving to provide cost effective and innovative solutions for our client's applications.